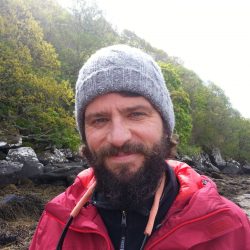 What and where do my interior, I mean really inner, thoughts begin and end? Are they eternally clicking away like a telephone exchange processing innumerable passages of sentiments from everywhere to the other side of everywhere? I got lost today in my job, it took me over, I thought of nothing else but what I was being paid for. Today was a good day for the man. He got his money worth from my meagre efforts and I got little. Like tapping the forehead waiting, wanting, willing an itinerant thought back to the fore, gone, gone down the channels of memory into the files of some hidden draw.
I bent my mind to pick something to write about today, and yet I've listened to nothing yet seen volumes. I could talk about the outside, as I've been cooped up all day. The walk to and from occurred in a splendour of light.
It's back. The thought I had when walking to work this morning. The feeling I had during the low cast sun in the morning light, the cooling breeze made the sun feel friendly not its fierce enemy in the height of summer. The trees beginning to look tired are certainly past their prime but magnificent in their canopies holding back the light priming the shade below. The dappling of late summer sun is pulling my thoughts to another life. A life outside being closer to the ground, the earth. Walking through a forest with a babbling brook next to a path, birdsong traversing the layers, the scent of late summer flowers, yes, that's what I was thinking of whilst walking to work this morning. Wrapped up placed in a box stored carefully on the shelves labelled happy, just waiting to be brought down again as I entered the late afternoon September day. To enjoy it twice is an indulgence.
Think hard or just don't think at all – the waves of feelings wash over me when given the opportunity to do so.
I need to be silent
I require solace
There is no movement
In lands inside the world